Some of you have probably been there already, heck, there's even a
Youtube video
taken of in it. But I'm guessing most of you have never even heard of Lorong Kilat. I wouldn't have myself, if not for a dear friend and colleague who, like me, enjoys sharing her love for food with others and pointed me in that direction for some kickass deep fried chicken.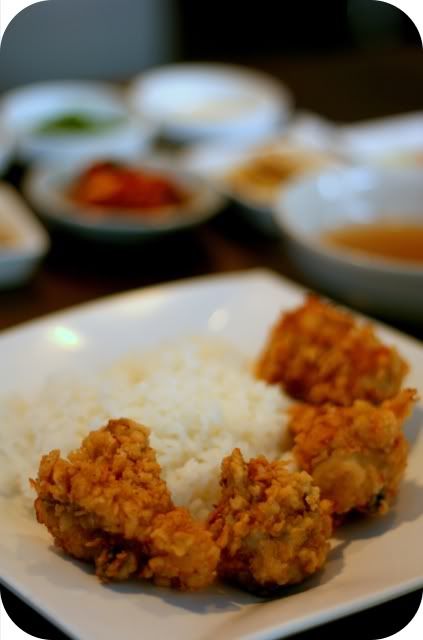 Who would have known that the Koreans would be the creators of such incredibly light, crunchy and delicious pieces of deep fried chicken? On our very first visit to Woori Nara, Ed and I ordered half a 'Volcano Yum Yum' chicken (ok, so their strength isn't in naming their dishes) and half a Soy Garlic chicken. We liked those very much, although we thought they might have overdid the sauce a little. Out of greed, we also ordered another serving of the 'Crispy and Mild' chicken and were henceforth sucked into the mystical world of Korean deep-fried chicken.





We have never looked back. Sure, we have tried other items on their menu which were generally decent, but getting our hands on some of their chicken is a must for every visit. It is also the place we think of whenever we have a deep fried chicken craving. I recommend wash it down with some refreshing rice drink (similar to our barley drink, except with rice - top picture) to complete your meal.

Woori-Nara Korean Restaurant
19 Lorong Kilat 01-02
Tel: 6464-9282.