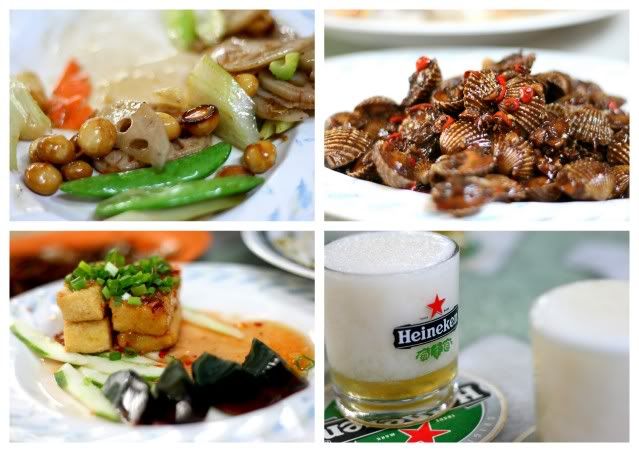 Due to some problems with my laptop, the blogposts of the last couple of months (okay, probably longer) have only been about places/food when I had taken photos of those said places/food with my iPhone. Having just gotten my laptop fixed, I am now faced with a multi-lemma - which awesome food experience should I blog about first? There's this awesome dinner that revolved around a duck stuffed with turkey and chicken - an interesting adaptation of the often attempted
Turducken
at Christmas celebrations, a Penang trip where I discovered the wonderful eats at Kimberly Street and an incredibly light egg white batter for fish and chips that I found in
Damien Pignolet's French cookbook
, among many others. After possibly too much deliberation, I decided it would be a travesty not to first blog about this amazing eatery in our neighboring country that I had the fortune to visit in April this year.
A mere 45 minute car ride from Singapore, into a rather desolated place in Johor, Malaysia, is a small town called Kulai. And within Kulai, is an even smaller coffeeshop called Yuw Meng selling your usual tze char (see Wikipedia for definition of
'tze char'
) fare and then some. If exotic food is not up your alley, don't let the sight of a deep-fried squirrel on its menu scare you as I assure you the rest of its menu is more... sane. Fortunately, Ed and I were accompanied by 2 regular patrons who knew exactly what to order, and who had appetites as big as (if not bigger than) Ed's. With the smallest appetite in the group, I definitely gained the most out of this arrangement as we could order for four persons what would comfortably feed 8, to have a wide sampling of their food.
To start off the meal however, we had a glass of ice cold beer each, under our companions' insistence. It was, very simply, a bottle of Heineken, poured into small frosty glasses for each of us. Not being a fan of all types of beer, except when mixed with a little ginger beer for a shandy, I was initially unimpressed. That is until I took a sip. Beneath that simple presentation and thick beer head were tiny shards of beer icicles, creating the most amazing texture and sensation when drunk. My best guess at how they managed this is by super-freezing their glasses just before serving, perhaps with nitrogen. But it is difficult to imagine this roadside coffeeshop storing a couple of canisters of nitrogen in its kitchen.
In general, the food was excellent. Every dish well-executed, with all the
wok hei
we had hoped for in our meal. The picture above shows Ed's and my favourite dishes of the night. The dish of scallops, lotus root, celery, carrots, snowpeas and macadamia nuts were, very surprisingly, Ed's top dish. He eats his vegetables, but they almost always seem like an afterthought in our meals and an obligatory attempt at getting some fibre into our diet amidst the copious amounts of carbohydrates and protein. So to hear that he enjoyed that particular dish the most certainly caught me by surprise. I tried recreating the dish back home, and apart from the wok hei, I also couldn't re-engineer the incredible crunch of the thin slivers of lotus root.
As for the dish that stole my heart, it is difficult to decide whether it was the spicy fried cockles or the homemade tofu with century egg. Few know that I have a love affair with all sorts of molluscs, especially cockles. Of course, Ed knows. When he has
laksa
, he would selflessly order more cockles despite not really liking the taste, and fish out all the cockles out for me. So you can imagine my delight when our companions at Yuw Meng ordered a plate of cockles fried with a smattering of chopped bird's eye chilli. Each cockle, extraordinarily fresh and plump, carried a little sweetness and made the long queue at the Causeway (when Malaysia introduced a new fingerprinting system for all entering visitors) a distant memory.
But the homemade tofu was perfection. Served with quarters of century egg and sweet thai chilli sauce, and garnished with chopped spring onion, homemade tofu never tasted so good. If I wasn't already so stuffed by the time the dish arrived, I would have happily ordered another serving of that tofu all for myself.
The other also stellar dishes we had included fried hokkien mee, fried mee sua, steamed fish head, sharks' fin soup, black pepper crab, and fried pork spare ribs. (See below.) Without belabouring the point, the food was excellent and worth many return trips. We recently met up with one of our travel companions at that time, and my heart jumped with joy when he suggested organising another such trip soon.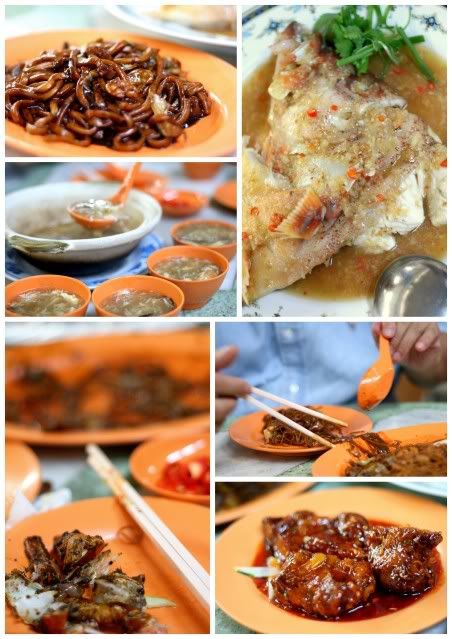 Yuw Meng
44 Jalan Serulin 2
Taman Seri Kulai
81000 Kulai
Johor, Malaysia

For directions, click here.