With the 7-day Japan Rail Pass, the world would truly be your oyster in Japan. At the drop of a hat, you could go to Kyoto, Kobe, Osaka, Hakone... the possibilities are endless. Wanting to try an authentic Kaiseiki meal, and having set aside a small fortune before even having left Singapore, my companion and I took the JR train to Kyoto before the dust had even settled on our luggage in Tokyo.
Walking down the main shopping street in Kyoto, we were like kids in a candy store when we chanced upon a not-so-Japanese shop called Angers (we later found other outlets in Tokyo). Grabbed a whole bag of gifts for friends, family and self and was surprised by the paper-bag-within-plastic-bag-thing they had going. Slight drizzle apparently triggers this reaction from sales persons throughout Kyoto (and possibly Japan).
Admittedly, we didn't set aside enough time for Kyoto than she deserved. But it did not matter as long as we got to try a proper kaiseiki meal. We figured the main shopping street would have its fair share of restaurants serving kaiseiki meals and that we'd be able to kill 2 birds with a stone.
Alas, after much miscommunication (as should be expected since we didn't know their native language) we ended up waiting for an hour in a restaurant only to find out that their kaiseiki set meal in their menu wasn't available that day. I was utterly disappointed and on the verge of walking out.
Thankfully, my very patient companion made the best of the situation and ordered a slew of dishes from the standard menu instead, because every bite redeemed our experience. With every new dish, my spirits calmed down and tastebuds tingled with joy. Sashimi was great, so great we ordered another round of it. It was also the first encounter with uni for both of us and while I quite enjoyed it, my companion could do without it. One small happy find was the side of fresh shreds of ginger flower served with sashimi (which we encountered in one or two other places in Japan), in addition to the usual shredded daikon.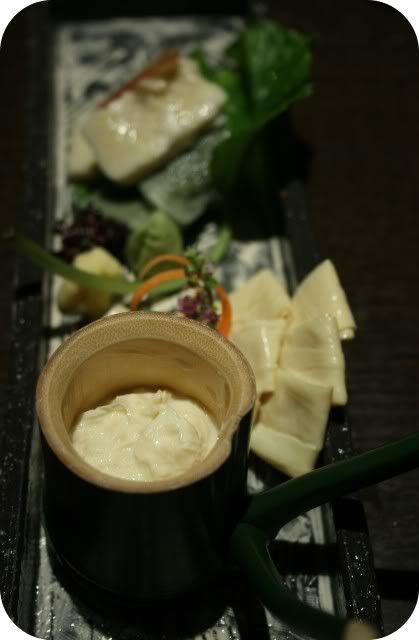 One of the most pleasant dishes in our meal was the beancurd dish. Famous for their soy products, the trio of beancurd was divine. Each was smooth and very... clean. For lack of a better word. Served in a small bamboo cup was a concoction of soft delicate sheets in pure soy milk. Other dishes we tried, all of which we enjoyed thoroughly, include grilled beef and
ochazuke
/bubuzuke (rice with green tea and fish broth).
The dessert looked perhaps, the least impressive of all the dishes. Green tea ice cream with Tanda black beans. However, it inspired me the most. I wanted to teleport home and replicate the green tea ice cream's flawless and milky texture, served with the sweet plump black beans. I was so infatuated, I bought 1 kg worth of Tanda black beans from
The Bean Guy
at Tsukiji Market.
Despite the mix-up at the beginning of our meal, we left very pleased with the outcome of the meal even though it meant I never got to try a kaiseiki meal. The manager was evidently apologetic for the miscommunication and overcompensated when tallying our bill. I would certainly be glad to revisit the
restaurant, whose name I can only guess is Saryo Mina
from the weblink on the name card, again.