Yes, that's right. I'm a convert. While I've always been happy to eat Japanese cuisine, I now aim to eat Japanese at least once a week. Thankfully my new office (yes I've changed jobs) is right next to Central, where there is no lack of ramen, sashimi and even hambagaa.
In between jobs, my companion and I grabbed the unbelieveably cheap flights (SGD500, all inclusive!) to Japan and bounced around for 7 days. 7 fulfilling and incredible days were spread out among Tokyo, Kyoto, Kobe, Hakone and Yokohama, though they were mostly short pitstops for a look-see. And of course some food.
One such pitstop was in Kobe - a last minute decision to go to the source of Kobe beef, made possible with the 7-day Japan Rail Pass that allowed unlimited access to any part of Japan. We probably wouldn't have chosen to do so if not for the fact that our virtually non-existent Japanese led us to a restaurant in Tokyo that specialised in what we thought was Kobe beef, that we eventually found was Hida beef. We were just unbelieveably unlucky in finding a restaurant that specialised in Kobe beef.
We travelled to the Shin-Kobe Station from Kyoto by a brief train ride and found ourselves in Kobe with no particular destination in mind. We headed to the tourist information centre and were fortunate to meet an English speaking staff who could understand our request for a recommendation for Kobe beef. Many tourists before us surely asked her too; her recommendation came quickly and for a cosy restaurant called Wakkoqu, in the Oriental hotel just across the road from the station!
We couldn't believe our luck and were able to leave our luggages with the concierge before heading to the third floor. The other restaurants on that floor would normally have distracted me, but I had my heart (and stomach) set for Kobe beef. I knew I wouldn't be able to leave Kobe without tasting it. It wasn't easy to find, but were brimming with excitement when we finally did.
We looked through the menu quickly and, with some help from the teppanyaki chef assigned to us, chose the standard lunch set (SGD75) and a CHAMPION COW lunch set (SGD200). I kid you not, it was a CHAMPION COW.
First on the menu was the Beef Tataki Salad that only served to make us hungry for more. My appetite for the beef grew, slowly tormented by the sight of the raw slab of beef awaiting the chef's deft teppanyaki skills. Only after the chef slowly fried thin slices of garlic, ensuring each one was evenly browned, the Kobe beef was sliced into bit sized chunks and fried, one portion at a time.
The Kobe beef was as good as any review out there in the blogosphere made it out to be. No, it was even better. Its rich, melt-in-your-mouth texture was overwhelming and met my every expectation. Buttery. Soft. Mmmmm. The difference between the CHAMPION Cow and the non-champion cow was evident, though the latter was already positively delicious.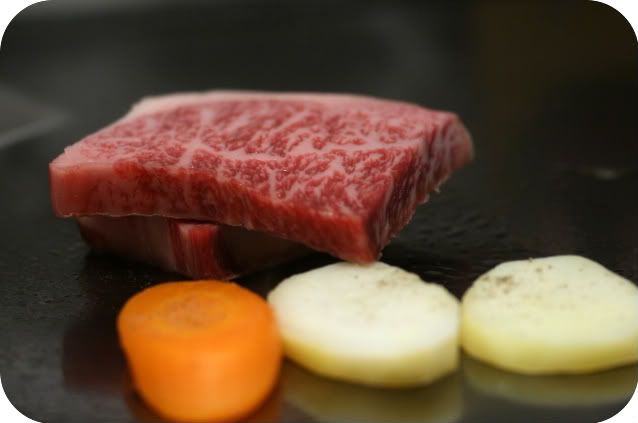 The chef very thoughtfully portioned our beef, frying more only when the meat on our plate was running low. In the meantime, large slices of carrot, turnip, aubergine and cucumbers were fried. The finale involved pieces of fried fat and a large handful of skinny beansprouts, all of which were meant to be consumed. I usually shun from eating animal fat in such huge chunks but succumbed to curiosity, and then greed when I was into my fourth piece.
In all, the experience at Wakkoqu was all we could ask for, and I would not hesitate to return if I do visit Japan again.
Wakkoqu
3rd Floor, Oriental Hotel
Opposite Shin-Kobe Station
Opening hours: 11.45 - 22.00
Reservations recommended: Call 078 262 2838
Website:
http://www.wakkoqu.com/english/index.html