One of the most well-known national icon (at least to people from my generation and older) is unmistakeably a furry friend who was adopted by the Singapore Zoo at the age of 11 after being kept as a domestic pet. She slowly developed into Singapore's tourism icon, being featured in countless films and media articles. Her domestication in her early years honed her to become more approachable, and this led to the popular Breakfast with Ah Meng.
While she passed on early last year, her legacy lives on through the eateries named after her (Ah Meng Restaurant/Ah Meng Kopi), in the durian tree plated at her grave, through the bronze statue erected in her memory, and most certainly in her trainer's thoughts. Her trainer, who had looked after Ah Meng for the past 36 years before her death, was even given compassionate leave after her death.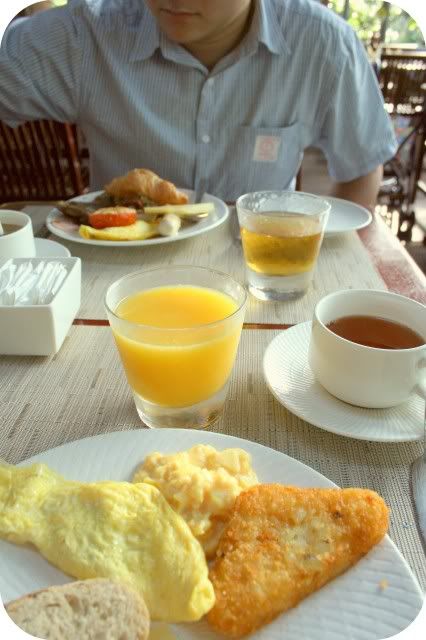 Now that Ah Meng has passed on, the interactive breakfast programme lives on but has taken on a new (and more generic) name of 'Jungle Breakfast with Wildlife'. I'm sad to say that I did not even have a chance to meet Ah Meng, much less have breakfast with her. So when my partner suggested having breakfast with a bunch of Ah Meng's relatives, I immediately snapped up the offer.

For SGD$25++, a simple buffet spread of a mix of local and western food was available. Those who favour fried bee hoon and chwee kueh would enjoy the breakfast as much as those who prefer the omelette and hash combination. While the coffee and tea ladies walked around to make sure our cups were always full, we had to trawl through a couple of drawers at the counters ourselves to find for ketchup - the one thing from my childhood I still cannot let go - giving you an idea of how casual breakfast is.

Of course, the stars of the breakfast were the Orang Utans, who eagerly climbed down the vines and sat obediently on the wooden platform. Trainers were by their sides to constantly feed them a variety of fruits to keep them occupied or they'd start becoming restless. I cannot remember how many kilograms of fruit we were told they would go through a day, but looking at the speed with which they popped whole plums into their mouths and spat out the seeds, I'm guessing it would be alot.

Visitors were invited to take photos with the Orang Utans. A professional photographer was at hand to snap pretty and sharp photographs, but we could pass to other staff there our own camera to snap pictures as well.

After breakfast, we went on to explore the rest of the zoo, and I must say that since I last visited in primary school, alot had changed. I enjoyed myself thoroughly and have to admit that the Singapore Zoo is unmistakeably one of the must-visit places in Singapore.

The Jungle Breakfast with Wildlife starts at 9am and is on a first-come-first-served basis. Reservations are encouraged (6360 8560), otherwise, it is best to go earlier to get a good seat with a good view of the Orang Utans.