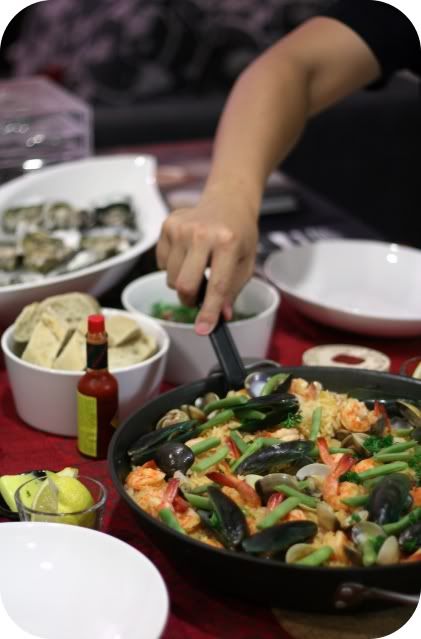 From top left: Fresh oysters, baguette from Culina, brown button mushrooms with garlic and parsley, Habanero Tabasco sauce, pat of butter, lemon wedges, random spatula-wielding hand, and The Paella.
This year's Christmas has been... refreshing. It might be difficult to believe, but it is officially the 27th day of December and I have yet to lay my lips on any turkey since December started, unless you count the turkey ham I bought for a sandwich 3 weeks ago.
I organised a Christmas potluck for the office about a week ago, except it was a Teochew Porridge potluck party. It seemed to get my colleagues far more excited and I thought, what the heck, whatever rocks their boat. It made organising the party far easier than expected, although we did end up with a ton of canned and bottled food items like bottled olive vegetables and (my favourite) canned fried dace with black beans.
In the middle of last week, I helped a dear friend organise a
raclette
party. The cheese and grill were gotten from
La Fromagerie
, and my friend practically single-handedly prepared all the dishes to go with the cheese. The raclette was delish and thoroughly filling, and there wasn't a sliver of a turkey in sight.
When my mum suggested we have a small and simple family dinner at home, her suggestion didn't include any turkey either. Instead, she offered procuring live seafood from the nearby newly renovated
Sheng Siong
and preparing a seafood feast. Ed and my mum share a penchant for paella and I had always wanted to put my anodised
Calphalon
pan to the paella test, so we decided on an un-Christmas-like menu.
I must say I was pleasantly surprised by the selection of live seafood Sheng Siong stocked, which included lobsters and oysters. Their oysters, at SGD1.80, were not only reasonably priced, they were fresh (well, they were live you know)!
I'm happy to report the paella was a success. As usual, I cooked too much and had to spread out the paella to 2 more cast iron dishes. I'm just glad we managed to finish 2 out of the 3 pans I prepared, with the last simply waiting to be reheated and served to guests we're expecting tomorrow afternoon. With a platter of fresh oysters, some lightly sauteed mushrooms with garlic and parsley, and a couple of slices of baguette gotten from Culina, our family's Christmas dinner was complete.
So there, my Christmas experience this year, with no turkey. Nil, zilch, nada, squat. I'm somewhat happy there wasn't any of that dry, moisture-sapping meat to endure this time around. Yet, I do miss some of that amazing soup my mum makes with the leftover turkey bones. Anyhow, I hope you've all had relatively fulFILLING Christmas dinners!
Paella
Adapted from The Cook's Book
Ingredients
2 good pinches of saffron
50g chorizo sausage, thinly sliced
1 white onion, finely chopped
2 red peppers, halved, seeded, and cut into 2cm squares
250g squid, cleaned and cut into pieces, including tentacles
1.5 cans skinned and chopped tomatoes, drained
450g Valencian paella rice or risotto rice
300g fresh clams, scrubbed (ensure all clams are tightly shut or discard them)
500g large fresh prawns, shells removed (except the tail) and deveined
400g fresh mussels, scrubbed and beard removed
50g cooked French beans, cut into 2.5cm lengths
50g cooked peas (optional)
lemon wedges and tabasco sauce to serve
Method
Boil fish stock with saffron and 1 crushed garlic clove in a pot. Simmer for 5 minutes.
Add chorizo, remaining garlic and bay leaves and cook over gentle heat for 1 minute.
Add onion and peppers, and cook for 5 minutes.
Increase the heat, add the squid and fry for 2-3 minutes.
Stir in tomatoes, paprika, and remaining oil. Fry for 4-5 minutes. (This tomato mixture is known as sofrito.)
Scatter in the rice, distributing it evenly over the ingredients in the pan. Pour over the hot stock, reduce the heat and cook gently for 10-15 minutes. Shake the pan occasionally but do not stir.
Add in prawns, clams and mussels, cover and continue cooking for another 5 minutes or until the rice is tender but slightly firm (it may be necessary to add a little more stock or water), and all mussels and clams have opened (those that never open may have turned bad).
Side note: The original recipe calls for the prawns, clams and mussels to be added with the stock, but I find this overcooks the seafood.
The rice will form a golden crust on the bottom (called a soccarat).
When all the liquid has been absorbed, add the beans and peas.
Serve with lemon wedges and tabasco sauce.