When colleagues found out Ed and I were planning to visit Penang for 5 whole days, they thought we had lost our minds. They were nonetheless very helpful in recommending places to eat at and surrendered lists of great hawkers in Penang for each of the famous dishes - Assam Laksa, Chendol, Char Kway Teow, Kway Teow Teng, Pork Intestine Porridge, Hokkien Mee, Duck Soup Mee Sua... and the list goes on.

While we did manage to visit some, eating at Penang is similar to eating in Japan. Like my close friend, V, once endearingly said, "Throw stone also got good food." Though grateful for the recommendations, we would probably have had just as great an experience without them.





On top of eating fabulous hawker food at Gurney Drive or at random coffeeshops next to our hotel (top picture), we visited a couple of eateries recommended by bloggers were living in Penang. Possibly one of our favourite meals was in Hot Wok.

Stoked by an immense hunger that stemmed from being lost for almost an hour, we went ballistic over the menu and ordered much more than we should have ate - and then finished it anyway. The Otak (steamed, curried fish paste) and Tau Eu Bak (pork stewed in dark soy sauce) were sublime. I practically drenched my plate of rice in the deliciously savoury sauce.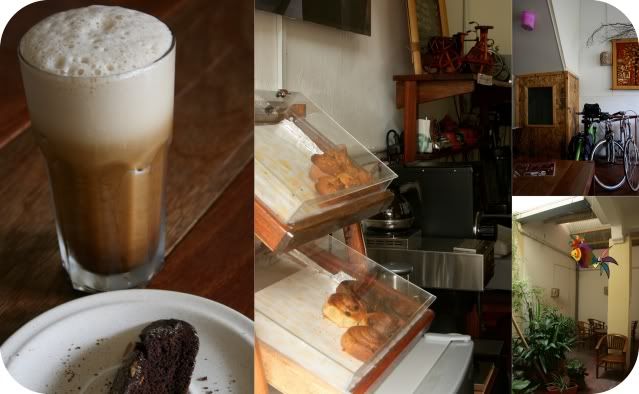 Determined to walk off our incredibly heavy lunch, we wandered into smaller roads where we spotted siTigun, a 'bicycle pitstop cafe'. Like the other shops around the area, a lazy vibe oozed from its doorstep onto the five foot way and we were inexplicably drawn to its seats.

The cafe was charming with the couple of bicycles parked inside, a small fountain going on in the back of the shop, and a handful of colourful lanterns reflecting the midday sunlight. They had decent coffees, a small selection of snacks (so much for our plan to walk off our heavy lunch) and very helpful service staff. Because it was such a breath of fresh air among the other run-of-the-mill shops in the area, I absolutely fell in love with the place.




One of our last meals in Penang was in Vintage Bulgaria Restaurant & Bar just further down from Gurney Drive (10 mins by taxi). Having little experience with Bulgarian food, we ordered simply what sounded good. The menu was pretty extensive and we were torn among a couple of dishes. We finally settled on cod, a platter of meat and sausages, and some cheese-stuffed bacon skewers to share.

The sausages were decent and the cod a little too rich for me, but the stuffed bacon skewers floored my partner and I. Slightly crisped bacon with soft molten cheese, it was difficult to resist. If our mains weren't so filling, we would probably have ordered one more dish of that artery clogging stuff. 5 days might have been an unusual amount of time to spend in Penang as a tourist, but there was truly so much good food Ed and I wouldn't have minded hanging around for a day or two more.

Vintage Bulgaria Restaurant & Bar
1-E, Jalan Sg Kelian
Tanjung Bungah
Penang, Malaysia
Tel: +604-8981890