Support me in my bid to raise money for the Children's Cancer Foundation through Hair For Hope 2007. Read more about it here.
------------------------------------------------------------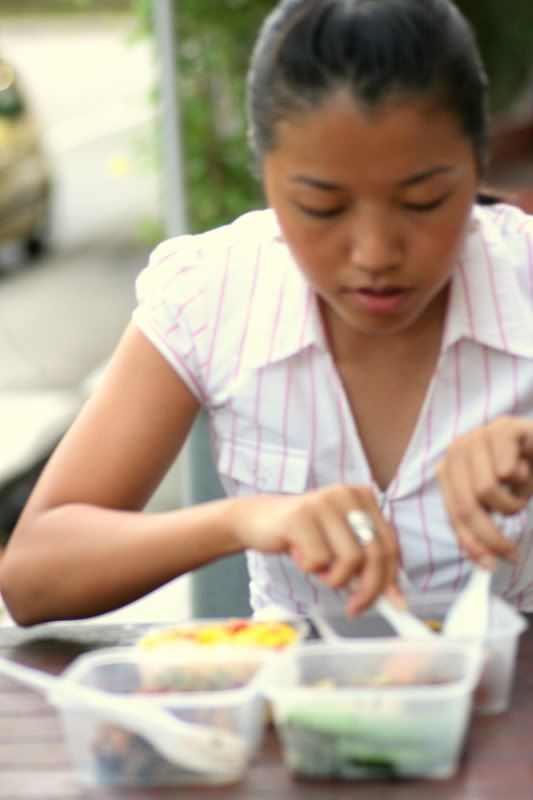 Eating out of takeaway boxes with plastic cutlery probably isn't your idea of a great dinner. It probably even looks slightly miserable. Nevertheless, I had a great time with Addy at Chip Bee Gardens, right outside Da Paolo Gastronomia. Although we were mildly disturbed by a few mosquitoes mercilessly feeding on us the moment we settled down, they soon got their fill and moved on.
This definitely wasn't
the first time
I visited
Da Paolo Gastronomia
. As a tiny outlet specialising in ready made food for takeaway, I imagine it attracts couples who have little time or energy to cook, and is sick of eating out or eating hawker food out of cardboard boxes. As a simple treat that can be simply reheated and enjoyed in the total privacy of your own home.
Addy and I were able to enjoy it in the cool evening air, soft evening blue-tinged light, totally undisturbed.
All we had to do was take our pick of Salmon and Spinach in Puff Pastry, Saffron Risotto with Prawns; Marinated Artichokes, Grilled Asparagus and Stuffed Portobello Mushrooms; request to have them briefly heated up; carry it out to one of the two alfresco tables; tuck in and do a little chin-wagging.
The food was not cheap, nor as unbelievably tasty as I had hoped. It is also unsurprising that texture had been compromised as a result of the reheating, and using a microwave nonetheless. Although aesthetically tempting, the Salmon and Spinach in Puff Pastry was not as exciting on the palate. The dish that did stand the test of taste and texture was the Stuffed Portobello Mushroom - excellent.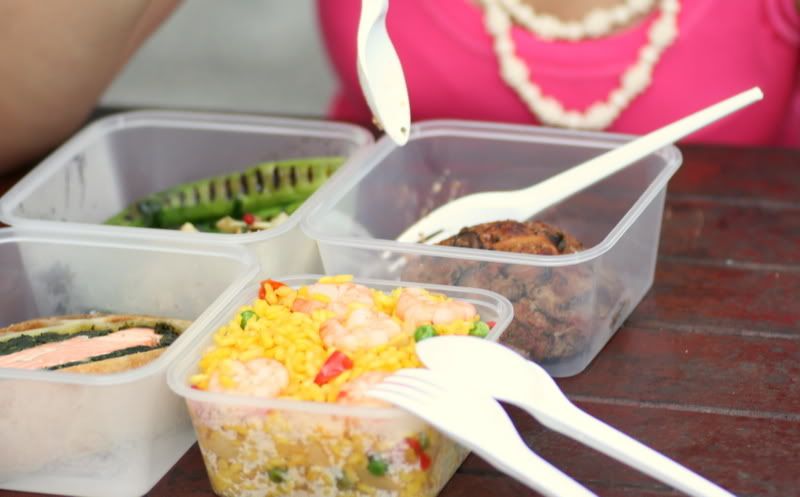 The entire experience was pleasant though as they have a wide variety of very bewitching food that sounds incredibly enticing. The desserts and bread were particularly alluring but we resisted them to avoid overstuffing ourselves, even though I had thoroughly enjoyed some of them before.
After having said all that, we did finish every morsel in those little plastic boxes. It is a great place to get food to stock up for a picnic, if you want something a touch more luxurious with virtually no effort. It's a bonus that the food is nicely packed into convenient containers, with all the necessary cutlery you would need. No preparation, other than a picnic mat, would be needed.
da paolo gastronomia (HV)
43 Jalan Merah Saga, #01-74,
Chip Bee Gardens, Holland Village.
Tel: 6475 1323
da paolo gastronomia (bt)
501 Bukit Timah Road, #01-01,
Singapore 259760.
Tel: 6468 7010
Hours: Open daily 9.15 amto 9 pm